Shaz Sajadi is a recent graduate student of journalism from Emerson College in Boston, and former intern at the New England Center for Investigative Reporting, where she focused on issues around in-custody deaths in Massachusetts. She has a B.A in law from Allameh Tabatabai University in Tehran and has experience making super short films in London and in Tehran. Like her namesake, Scheherazade the storyteller from '1001 Nights,' Shaz enjoys telling people's stories. When she is not reporting, Shaz enjoys traveling, archery and reading the Epic 'Shahnameh.' On a recent trip to Tehran, Shaz stopped by fashion designer Naghmeh Kiumarsi's showroom in Tehran. Here for #UpClosevaPersonal, Shaz and Naghmeh talk about being a fashion designer and the fashion industry in Iran.
How did you start working in fashion?
I have been working in the fashion industry professionally for 10 years now and I am very happy where I am. If I had not followed my dreams, things would not have worked out this way. When I was little, I liked to draw and sketch dresses. My grandmother and my aunts, who were tailors, would sew them for me. In high school, I couldn't go to art school although I wanted to, because in those days my mother believed that art school is for lazy kids. I did apply for the art concour [entrance exams] though, but I didn't get in the art university. So, I decided to start working, and I kept designing clothes and my aunt would make them for me.  People loved the outfits whenever they saw me wear something I had designed.
Until I decided that I need to start to make this my business. When I started, there wasn't a positive view toward Iranian fashion. Only a handful of Iranian women were working in fashion in Iran in those times, and I wanted to introduce a different concept to our clothing and fashion industry, something that would be so beautiful that women would enjoy wearing, not only viewed as a dress code.
I started with Persian calligraphy, which I would print on scarves then on manteaux [coat]. Then I did more modern work and a mixture of modern and traditional Persian designs, and that's how I got involved in fashion. Then business grew by word of mouth, I never advertised much. People liked my designs and I got encouraged to work harder.
Would you say your signature work is the Persian calligraphy?
Yes, I would say the calligraphy is pretty significant in my older work and also the mixing and matching of the different fabrics. But yes, the calligraphy is more prominent.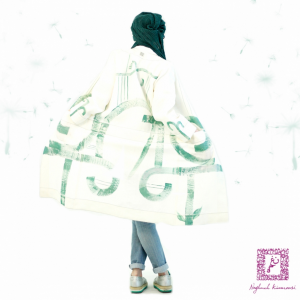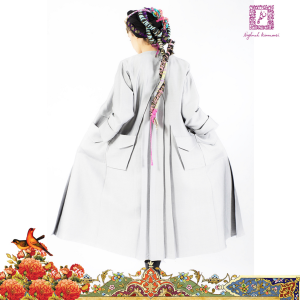 Any particular poems?
Hafiz poems and Rumi. First, I used the poems just as regular poems, then I used in calligraphy motifs, such as in the shape of a butterfly or a bird.
Where did you learn to sew?
I picked up how to sew without being taught. Then I took an advanced course, but in our work process now, I don't sew; I design and sketch. Then we as a team make samples, fix the errors and then the product gets made.
Do you think the Iranian dress code has inspired your work or will it affect your work if the dress code rule were to change one day?
It will definitely affect my work, but a creative person will always remain creative under any circumstances. I design a lot of dresses too, but my work is mainly manteaux and the Islamic dress code. I believe a truly creative person can create dresses and outfits using any material, paper, steel and can create amazing things.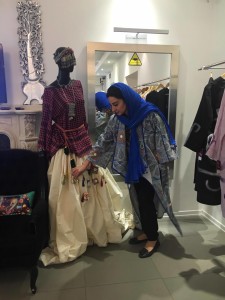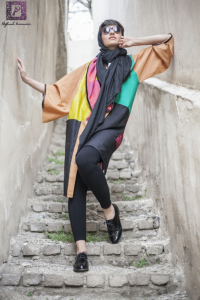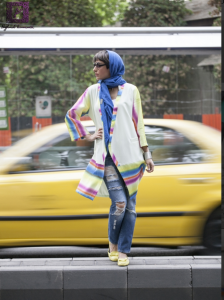 What do you think Iran's fashion needs today?
I've always believed in people's individual's styles. It's the person who gives the outfit character, not the other way around; that is my belief. You could wear a trash bag, and carry yourself with such style and grace that would be far more exciting than models walking down the runway. That's one thing; the other would be for us designers to be more creative and to use more concepts in our designs. We shouldn't only think of what the market demands. We should be more bold and avant-garde.
How have you tried to network with other successful fashion designers in the world?
I'm present on all social media platforms; Pinterest, Instagram, and I've had my website www.naghmehkiumarsi.com for many years now. All these efforts have made it possible for people to find me when they look for Iranian fashion designers. I've also had two fashion shows in Germany and one in Edinburgh, Scotland. And years ago my works were sold in Galaries Lafayette in Dubai.  I like to show the world a different image of Iran, because our culture is rich with art and friendship and the people are not a separate thing from the culture. It's important to me that the beauty of Persian art and design is seen in my work.
Do you think successful Iranian fashion designers all use Iranian influence in their designs or are there Iranian fashion designers who are working successfully with no Iranian influence in their designs?
There are designers who are working with no Iranian traditional influence and are successful, because they have an original idea and they believe in what they are doing. That's what's important. It's good to be true to our heritage, but that doesn't necessarily bring us success.
I know that every collection you have has a name and a concept, how did you come up with that?
I always have an inner image of what I want to create. A lot of famous designers have a story or concept before they start sketching. Without that inspiration, their work won't have any meaning. Sometimes I have been limited because those designs were not practical for everyday use and I have had to use those ideas in fashion shows.
What's the next step for Naghmeh Kiumarsi?
The next step is to appear as a bigger and stronger brand in the domestic and the international market.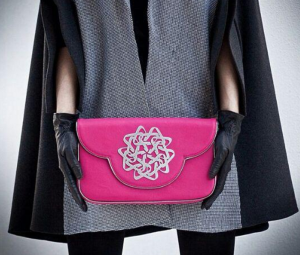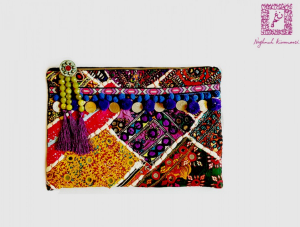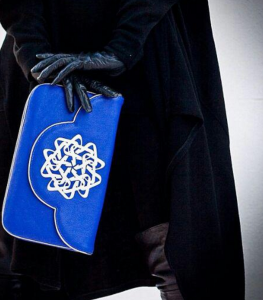 Related Links:
Naghmeh Kiumarsi's website
7 Iranian Fashion Designers To Keep Your Eye On