Roya Soleimani is the Corporate Communications Manager at Google where she oversees all communications for Social Impact across Google - from the philanthropic arm, to Google.org to Google-wide crisis response work, and more.
From unlikely beginnings, Roya showed pride in a strong sense of her cultural identity. Roya's parents came in the early 1970's to get their PhD's at University of the Pacific, in Stockton, CA. Initially, they had every intention of going back to Iran, as did many other families, but their degree completion coincided with the Revolution, so they stayed in the U.S., leaving their homeland for good.
Without the presence of Iranians in Stockton, Roya told Donya Nasser in this interview for #UpCloseVaPersonal: "My house was like our own Iran away from home, like a mini Iran. I didn't speak English until I was 3" As the story unfolds, we discover that through childhood experiences acting as an ambassador for her roots, and finding her voice in media at an early age, Roya was destined for her role at Google; to represent the multinational organization as their ambassador of social impact .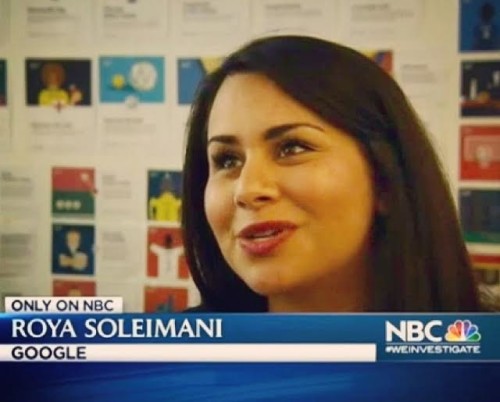 Tell us about your early life?
I grew up understanding both my Iranian and my American identities, because of my parents. My dad was like my own Ferdowsi. As you know, Ferdowsi helped protect and save the Persian language, so my dad was the Ferdowsi for our family. He made sure that my sister and I not only speak the language, but also read and write it, so that it wouldn't be lost on us. He spent time among our other activities to make sure that we studied Persian, something I only appreciated once I was older. My grandmother lived in our house, which made it that much easier. Once a week, I would study with him to learn to read and write in Persian, and to speak fluently. Around the age of 10, I helped fundraise for a Persian Center and I did a whole speech in Persian. From that early age, I valued my culture and its great value to me.
I've always been a proud Iranian-American woman and have never shied away from my identity; it is driven and inspired by my family and how they rebuilt their lives in the U.S. They experienced a lot of discrimination in the 1980s, but they never hid from their identity. I made sure I was my own ambassador for being Iranian, especially in a community where we were the only thing people knew about "Iran." It ranged from correcting the pronunciation of "Iran" to my mom bringing a Haft Sin to my school. As a result, my friends throughout my life then became mini ambassadors as well, who continue to correct misconceptions and spread the beauty of our culture.
And what about your education and professional background?
I was always really interested in politics and media; in high school I had my own television program called YTV (Youth Television). When I got to Berkeley, I knew I wanted to end up in politics and in DC. I did a semester in DC and fell in love there while interning at CSPAN and volunteering with NIAC (National Iranian-American Council). My parents thought I was taking time off when I told them I would move to DC after graduating. They wanted me to consider grad school first, but instead I took a job as Events Manager at the UC Washington Center in DC. After two years of working there, I then ended up at the Georgetown School of Foreign Service studying Arab studies afterwards, something completely unexpected. I knew after 5 years in Washington that I ultimately wanted to be back in California. I took a leap of faith and moved back to my childhood bedroom. After 2 months and 10 interviews for the same role, I ended up at Google as a Senior Communications Associate on the Search Team. I went from working at VOA (Voice of America) and the Persian News Network (1 year after graduate school, 2011-2012) to doing blog posts and responding to issues; representing an area I had no background in and having to learn the language of Google really quickly.
In my last spring at VOA, I worked with Saman Arbabi, former Executive Producer of Parazit. We launched "Weapons of Mouse Destruction," which was a participatory art project at South by Southwest. This initiative was a nexus between technology and society; how tech can empower movements and people, and makes us borderless in so many ways. This was of interest to me and bridged the gap I had between the tech sector and policy and media. I did this as a passion project, but this is one of the things that made me stand out most to Google. It was nothing I could've anticipated or planned for, and that's one of the things I've learned in all the years I've worked. The relationships you build and the things you build, if you do them authentically and genuinely, with your heart and without the expectation of return, there is a guarantee of return, even if not immediately.
You contribute to the Iranian community in many ways. Tell us more.
My love for the community started when I was 10, fundraising for the Persian Center, which is now in Berkeley. Every year, I participated in the Nowruz events and was incredibly involved at Berkeley, including being Editor-in-Chief of Perspective magazine, our Iranian Students Cultural Organization's official publication.  I've tried to create a new paradigm to challenge the notion that Iranians can't work well together. Our generation can work and build together, and when we do work together, amazing things happen. Whether it's informal mentorship or formal mentorship through organizations like IAWF (Iranian-American Women's Foundation) that I'm offering, I'm continually inspired by my generation and the generation that follows it; how we're building towards a different future than those that came before us, including a strong presence of civic engagement and having a voice in politics. We've been here for over 30 years, but I feel like we're just now being mobilized as a community beyond individual successes or contributions. Our generation and the one following it is not burdened by our past history, such as mistrust of the government and political institutions.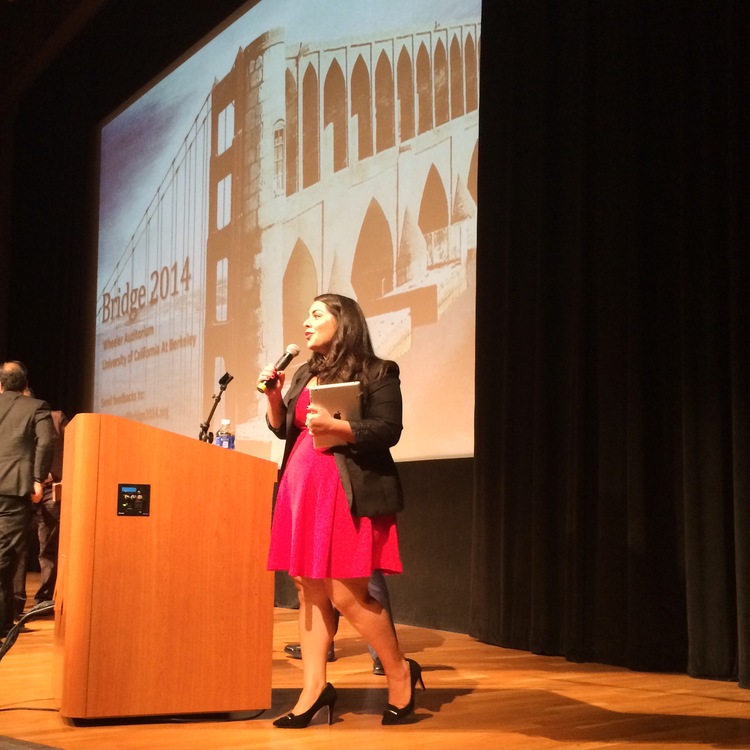 What are some of the challenges you have had to overcome?
One of the hardest things I've had to learn is how to prioritize. Taking care of myself, my health, and the people around me are as important as the causes I'm dedicated to. As someone who's been inspired by building community, I found that remembering to take care of 'me' is really important because I can't take care of other people, if I'm not taking care of myself. I'm still juggling and learning to balance life, but it gets me excited to build community, while also taking a moment to breathe and check in with myself. I can't be a full person to everything and everyone if I'm spread too thin, so learning to prioritize has made me a better advocate.  
Our culture has so many incredible facets, but there's also a lot of baggage at times. Growing up in a small community meant so many "petty" things weren't a part of my life. But then in college I was in a much larger community. I realized that just because someone shares your background doesn't mean that you'll immediately be best friends. Culture is a strong bond, but shared values are also incredibly important. There are parts of our culture that can be quick to judge and quick to assume, albeit much less in our generation as we're working to do things less conventionally. People are following their passions more and not everyone has to be a doctor or lawyer. We are an immigrant community learning to be a hyphenated diaspora (Iranian and American). So I'm happy to see our generation being less bogged down by those pieces that do exist in our culture.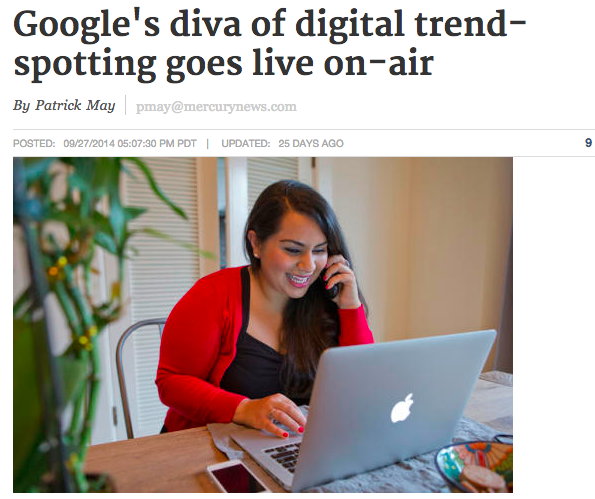 What's next?
I just started a new role on my team. I'm doing all of our Communications for Google.org, our social impact and philanthropic arm. This is anything from giving grants to innovators, to supporting those in crisis from natural disasters. The work I can do in the community through public speaking and coaching and helping startups find their voice has been wonderful. I want to continue to help people find their narrative and message, whether that's through a company or doing something on my own.
Biggest motto:
Be contagious! I learned this really in college. You're responsible for the energy that you bring to your office and community. If you're positive, you bring that to people, but negativity does that as well. So I try to be positively contagious and I hope more people are more thoughtful of the energy they bring. My hope is that they are more positively contagious and see the impact they can have on themselves and the community beyond. It brings much more goodness to our community.
About our guest blogger Donya Nasser
Donya Nasser graduated Summa Cum Laude from St. John's University as an Honors student, McNair Scholar, and Truman Scholar. She is passionate about advocating for gender equality domestically and internationally; empowering youth and minorities, and combating stigmas/stereotypes about the Middle Eastern and Muslim community.
She has interned for the White House, the Woodrow Wilson Center's Middle East Program, and the Brennan Center for Justice. She is also the youngest Board Director for both the Planned Parenthood Federation of America and Action Fund and the 2015-2016 U.S. Youth Observer to the UN. Donya was a 2014 Glamour Magazine Top 10 College Woman, L'Oréal College Woman of Worth, and one of PTE and Forbes' "100 Most Influential Persian Entrepreneurs and Innovators of 2015". She has been featured on ABC, Al Jazeera, HuffPost Live, the L.A. Times, MSNBC, and USA Today. Donya will attend SOAS University of London in the Fall as a recipient of both the John Loiello and Kamran Djam Scholarships to earn an MA in Iranian Studies.